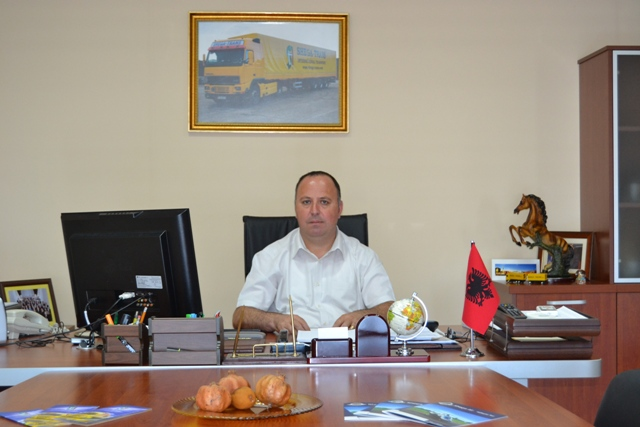 Shega-Trans, from a van to MSC containers, the story of a real Albanian self-made man
Slightly over 40, Ervin Shijaku is the typical Albanian businessman who made it. The founder of a transport holding, he even owns one of the rare private helicopters roaring in the Albanian skies.
The story of Shijaku and his Shega-Trans is different from the ones of other big shipping and transport companies operating in Durres port. "I am a self-made man - Shijaku stresses - and in 1992, just out of the army, I started working as a truck-driver through the Balkan roads between Albania and Turkey, when our country become open to foreign trade and most of import goods came from the Anatolian peninsula".
Shijaku soon bought a van of his own and then another four, while in 1995 he purchased his first truck, always working along the Turkey-Albania route, where the traffic volume was increasing.
In 1997 Shijaku's company, Dea Shipping, started carrying containers from China to Albania via Thessaloniki port. "The traffic from China was growing and growing, therefore our 30 trucks were no longer enough to cover the route from the Greek port to Albania. So I bought two feeders, Dea and Ester which, for five years, were shuttling between Piraeus and Durres, carrying containers of all shipping lines".
The company had meanwhile become Shega-Trans and, in 2007, it signed a contract with the MSC branch office in Athens, creating Tirana based MSC Albania, with Shega-Trans holding a 40% stake. Since then, it expanded its business beyond the sphere of international transport.
"We also represent Scania AB, and we are Schmitz Cargobull and Carrier Transicold dealers for the whole region, but we also own the Shega-Oil gas stations and Tirana public transportation service. I established Shega-Air too, a 4-aircrafts fleet supplying disinsectation services and aerial works".
Talking of MSC Albania, Shijaku explains that Aponte's global carrier is rather satisfied with Durres traffic volume, "although we only export minerals; we import all sorts of goods, but the crisis led to a drop in consumption".
The businessman is unhappy with Durres port's situation, "showing the lowest productivity in the region". According to Shijaku, the evils affecting Albania's main port are "the lack of equipment, the poor experience of companies, operators and staff, the absence of rules in the relations between transport companies and private terminal operators". Adding to such probems "the lack of initiative and cooperation between terminal operators, and the tension between the same operators and the Port Authority, the cocktail of mismanagement is perfect".
Shijaku is even skeptical about the harbour dredging project. "Although it is the port's main priority, I don't think it will ever be done. It's just a dream, while reality is a stagnating third category port with no chance of future improvement, since its operators content themselves with the little they have".
Given the situation, he thinks there's no space, at the moment, for a fourth container line in Durres, "as the freight price for 1 TEU from the hub-port to Durres is $ 375: too low for a newcomer who still has to establish his market in Albania. But 2016 may bring a new entry…"
At least, good news are coming from Italy. "I support the complaint issued by my friend Ardian Muka (Transpedmuka) on Ship2Shore, as Albanian international transport companies are exhausted with the monopoly of two ferry lines only, but also by the Italian weight tax on Albanian trucks. I heard this absurd tax will be abolished within the next two weeks. The statement comes from an Italian government official here in Tirana, and this time we believe it" Shijaku concludes.